Programmatic Direct Mail (PDM) was created to transform real-time online activity into personalized, dynamically rendered direct mail postcards or catalogs that are delivered into the postal mail stream within 12-24 hours of the online shopper's activity every day. Yes, within 12 to 24 hours of your web browsing, you could have a personalized catalog with your preferences on its way to you. To find out more, read on.
Programmatic Direct Mail falls into the relevant stack because it's making a connection to that recipient's expressed interest and intent. Additionally, response and conversion rates with Programmatic Direct Mail are outperforming targeted digital and direct mail channels.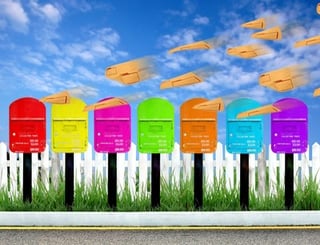 Q: How does PDM work on you?
A: You have an account on Amazon, Zappos or TravelZoo, and you click on an email promo in your inbox. You then shop around and leave a few items in your shopping cart without purchasing. In 2-4 days a direct mail response postcard or catalog delivers to your mailbox with personalized offers and discount offers on the exact items in the colors you were viewing. AKA retargeting via U.S. Mail.

For instance, should a customer go to a retailer website, look at some shirts and blazers, and then leave without purchasing, a 4x6 postcard with an offer on an apparel purchase could be sent out to her within 24 hours of her visit. Of course, the retailer must already have her physical address on file in its database.


Q: Who is the ideal marketer and consumer segment for PDM?
A: Marketers in retail and e-commerce space. They re-engage and convert existing customers, email subscribers, and website prospects—a.k.a. online window shoppers. Programmatic Direct Mail is for brands interested in a fresh, relevant, respectful way of continuing the conversation with consumers.


Q: Why create a new marketing channel now?
A: Unfortunately, most of today's digital mail has become junk mail. There are surprising parallels between the rise and reset of direct mail and what's happening in digital today. Today's heavy demand on efficiency of ad spend and targeted client ROI has generated the development of this new channel. You have a more respectful relationship with consumers. In other words, we are connecting the power of digital's real-time intent data with the efficacy and high brand impact of physical media into home.
There is a need for a new channel that blends the scale of digital with the efficacy of direct to lift digital marketers to stratospheric heights of engagement.

Example:


Benefits of Programmatic Direct Mail
(1) Higher Response Rates up to 20%-40%
(2) Eliminate waste in the direct mail marketing channel
(3) Conversion rates up to 80 times higher than traditional direct mail and 250 times higher than digital marketing channels

Everyone has a similar digital experience: privacy invasions, stalking, overserving. It's more abusive and disrespectful than junk mail ever was. A big differentiator between programmatic direct mail and triggered direct mail is real-time metrics and campaign management with a dashboard you can check on an ongoing basis to see the volume of mail sent, response and conversion rates, and return on ad spend.


Q: So is Programmatic Direct Mail right for your next campaign?
A: Drop us a line, and we can help you find out! Contact us.


Additional direct mail reads: