I don't know about you, but I trust my gut on most things. But what I don't take chances with is my clients' or my company's money. Gut decisions can drive great insights into what to test, when to test and where to test, but these need to be calculated decisions. Decisions made with consideration to the overall risk to your business.
CMOs are making gut instinct decisions. Should you?
In 2012, the Columbia Business School conducted a study and learned that 28% of CMOs admitted to making decisions mainly based on gut instinct. That's a big number. And with leaders that have a lot on the line, we have to wonder why they take these chances? The answer is that in a fast-paced competitive environment—where new businesses enter our space every day—we all have to innovate. And sometimes that means taking chances. A slight movement in the needle can impact our bottom line today, but we need to make bigger leaps to stay ahead of our competition in the future.
Understand the potential impact—upside and downside.
So how do you get insights to change your game? Test. Test. Test. But do it in a controlled environment, considering limiting business risk and balancing high-return opportunities, where you can clearly measure results. And always make sure you wait until all the results are in—response, conversion and average sales price—before you make a call.
Recently, we developed a comprehensive direct mail testing strategy to generate leads and sales for a luxury travel client. One component of this strategy was testing the direct mail format. Our hypothesis was that for their high-end customer segment, an envelope package would perform better than a self-mailer package. So we tested it, and upon review of the response results, we discovered that the envelope package did indeed outperform the self-mailer by 85%. This was great news because by opening up the top of the funnel we received more leads and assumed that we would see similar conversion rates for both formats that would translate into a big upside in sales. However, what we learned was that the envelope package had a lower conversion rate than the self-mailer and in the end the cost-per-sale between the two was very similar.
If first you don't succeed… Test. Test. And test again.
Although we didn't see the upside that we were looking for in these test results, we continued with the ongoing testing plan and improved conversion rates so that this package has now become the winning control package.
Lesson learned? Wait until all the results are in before making a decision. Be sure to leverage ALL the data analytics before rolling out a new package or pulling the plug on a test. You can, and should, use your gut to help you come up with strategic testing ideas, but always use data to help you evaluate the risk and opportunity and inform your decision-making in your go-forward strategies. Data—it will connect you to a greater ROI.
Have you ever been just convinced about a certain outcome… and the data told a different story? Tell us about it—let's learn together!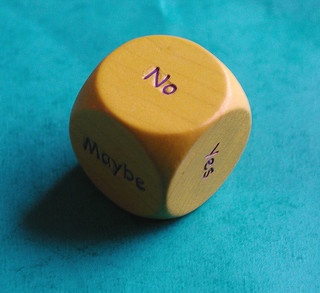 * Dice image courtesy of CreativeCommons.org