Yesterday, April 10th, 2016, was the day the USPS put a little money back in our collective pockets. Our First Class postage stamps have just decreased from .49 to .47. Not since 1919 have we experienced a postage stamp decrease. So, for many of us, it's a once-in-a-lifetime experience just like Halley's Comet. Okay, well maybe not that exciting, but you get the idea.
The Numbers
The numbers speak for themselves:
• Anderson clients will save over 1 million dollars
• Nationally, all direct mailers will save over 1.5 BILLION dollars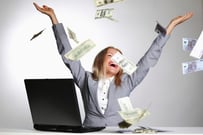 The History
In September 2013, USPS filed for relief from effects of the Great Recession. During the recession, the Postal Service was hit hard and asked for a temporary, emergency price increase to recoup its losses, which reached into the billions. The increase was supposed to be temporary, but how often do we see these types of increases become permanent? The boost was intended to be reversed when the Postal Service collected $4.6 billion in surcharges. That benchmark happened yesterday.
How Will Direct Marketers Take Advantage?
So will direct marketers choose to just save the postage or reinvest the savings and hope to increase ROI? With marketing budgets already established for 2016, the savvy marketer will invest the postage decrease and mail larger quantities to increase their ROI without expanding budgets.
I know what you're thinking: if the cost of stamps drops and the Postal Service can't meet costs, will your tax dollars kick in to make up the difference? No. The Postal Service doesn't receive federal tax dollars for operating expenses. It's self-funded—even though its ability to make business decisions is regulated by Congress. For more on how the USPS finances work, click here.
Bottom Line
It's a win-win. More money for our marketing budgets with no flux in tax dollar usage by the Postal Service. Now get out there, make dreams come true, and optimize that ROI for your campaigns!
Download our 2016 postage cheat sheet: 2016 Postal Rate Guide From Anderson Direct and Digital.
Reference:
https://about.usps.com/who-we-are/postal-facts/postalfacts2016.pdf