Have you ever tapped a customer on the shoulder (and by "shoulder" I mean mobile­­­ device), and offered them an incentive just as they're about to walk away from your product? The technology has been around for a while, however it wasn't until this year's 2014 South by Southwest (SXSW) conference that these shoulder-tapping devices, called beacons, got their spotlight.
What are these beacons and how do they work? Essentially they're low-powered, low-cost transmitters that notify mobile devices of their presence. The most well-known beacon is Apple's iBeacon.
SXSW is a huge conference and downloading an app is essential for keeping track of the 1,000+ presentations. In 2014, SXSW took advance of the iBeacon. A participant walking into their "Is Marketing Drunk?" session could get a message via the app, "Welcome to the session Leah. Participate in the attendee chat during today's meeting."
Beacons have been around for a couple of years but Apple, like with everything else they do, makes them simple and sexy. The iBeacon has been in full force at the iTunes store, allowing customers to schedule a meeting with an Apple Genius or even check out without having to wait in line. Department stores are also taking advantage of the technology. Imagine you're at Macy's and you're perusing a gorgeous blue dress that hits you just right in all the right places, but you're not sure about the price. So you walk away only to have your Android alert you that the dress is now 25% off!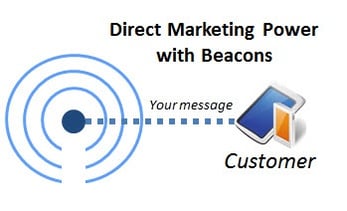 As a marketer this gets me all kinds of excited, especially because beacons are very reasonably priced and cheap to operate. They're only about $50 per beacon or less and have no special operating software as they come with built-in dashboards that let marketers manage them within a browser.
The challenge is that as marketers, we have to build an application, the same way we build with any other application, but now we can make that app listen for these beacons.
However, we all know that the greater challenge is how to provide a valuable app for our customers. Our team feels that the best situation for these types of "beacon-using" apps would be when they are scalable. For example, Apple uses them so if a customer downloads the Apple Store App, they can trigger any of Apple's beacons in any of their stores to ping app subscribers. The Tribeca Film Festival app also exists so that attendees of the festival can stay connected. For smaller-scale situations, the challenge is to give the customer a reason to go through the trouble of downloading an app.
So when we look at the potential, it makes sense right now for national chain stores to enrich the retail experience, or perhaps affiliated campuses like colleges, museums, or hospitals to utilize apps with beacons to connect and provide valuable content like maps and schedules. Even large-scale sporting events can gain advantages, while other opportunities could arise in the travel industry around airports and hotel chains, and perhaps even areas where internet and Wi-Fi aren't feasible but a beacon can be used, such as national parks or even city-wide tours. Audio-guide machines right to your phone!