You may have heard the term Micro-Moment and thought to yourself—is that just a tiny moment in time? Not exactly.

A Micro-Moment occurs when people reflexively turn to a device to act on a need to learn, do, discover, watch, or buy something. They are intent-rich moments when decisions are made and preferences shaped.
There are 4 key types of Micro-Moments:
I-Want-To-Know Moments: Someone is exploring or researching, but not yet in purchase mode. They want useful information and inspiration, but not a hard sell.
Curiosity can be triggered by anything and satisfied at any time.


I-Want-To-Go Moments: People are looking for a local business or are considering buying a product at a local store. Being there means getting your physical business in their consideration set in that moment.
Our digital lives connect us to our physical world.


I-Want-To-Do Moments: These may come before or after the purchase. Either way, there are "how to" moments when people want help with getting things done or trying something new. Being there with the right content is key.
We seek instruction for just about everything.


I-Want-To-Buy Moments: These are huge, of course. Someone is ready to make a purchase and may need help deciding what or how to buy. You can't assume they'll seek you out; you have to be there with the right information to seal the deal.
Mobile assists in purchases across channels.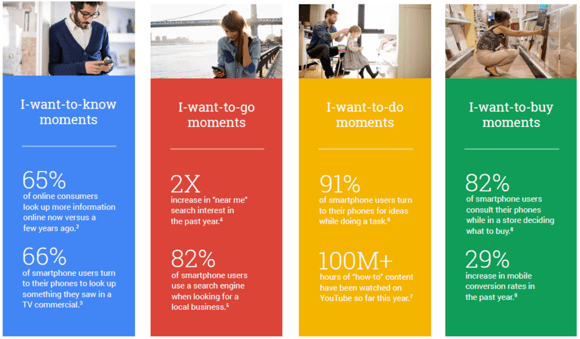 As you can probably tell by now, Micro-Moments are critical touchpoints within a consumer journey and ultimately determine how that journey ends.


So now that you know what a Micro-Moment is and how important it is to a consumer's journey, let's talk about the steps you can take to implement a Micro-Moment strategy into your marketing efforts.


Step #1: Be There

Build your Online Strategy
Be present where/when your consumers are looking for you – e.g., search, Facebook, re-targeting.

Document user intent, identify which key moment they're in, and layer context to tailor your approach
Fun Fact: 90% of smartphone users are uncertain of which brand to buy from at the beginning of an online search.


Step #2: Be Useful

Provide Relevant Info When They Need it
Develop tailored content that is easily and quickly digested.

Create content libraries that include how-to and instructional content.

Use past behavior to tailor messaging to your consumers' needs.
Fun Fact: 73% of consumers say that receiving useful information from an advertiser is the most important attribute when selecting a brand.


Step #3: Be Quick

It's About Quality & Speed
Eliminate unnecessary steps – e.g., lead forms, purchasing phases.

Provide one-click CTAs – e.g., click here to talk to a representative.

Make sure websites load quickly.
Fun Fact: 29% of smartphone users switch to another site if it doesn't satisfy their needs (i.e., too slow).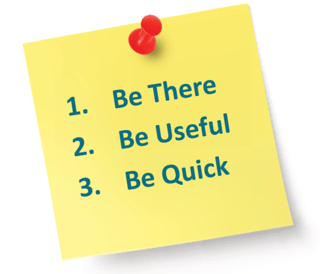 Lastly, don't forget to connect the dots when outlining your metrics and reviewing your analytics.
40% of enterprises still go by first-touch/last-touch attribution when measuring marketing and media performance.
Yet, 90% of people say they use multiple screens for everyday activities such as booking a hotel or shopping for electronics.

If you want to learn more about Micro-Moments and how to properly implement them into your marketing strategy, contact Anderson and we'll be happy to help.


You may also be interested in some of our other reads:
References:
https://www.youtube.com/watch?v=cplXL-E1ioA
https://www.ama.org/publications/MarketingNews/Pages/your-mobile-moments-are-shrinking.aspx
https://www.thinkwithgoogle.com/collections/micromoments.html?gclid=CKil1uOa6NACFQx7fgodiq8P5g&dclid=CJaM_OOa6NACFUpmfgod95IDlA
https://www.thinkwithgoogle.com/micromoments/intro.html