Once your marketing team is educated on how to market to the LGBTQ community and you've established your LGBTQ creative guidelines, it's time to develop your creative approach to LGBTQ marketing.
By researching what competitors and even other industries are doing in terms of LGBTQ marketing, you'll be able to assess how to position your campaigns to succeed. According to Community Marketing, Inc.'s recent 10th Annual Community Survey, pro-LGBTQ brands that are recognized by the community include Target, Starbucks and Amazon.
Here are a few examples of other companies whose LGBTQ marketing stands out:
(1) Example of how to not offend
We love how Kroger handled the recent H2B law. Their profits actually increased shortly after their ad went viral, demonstrating what's possible when brands take a LGBTQ-friendly stand. It was shared 31,000 times on Facebook and got 19,000 likes.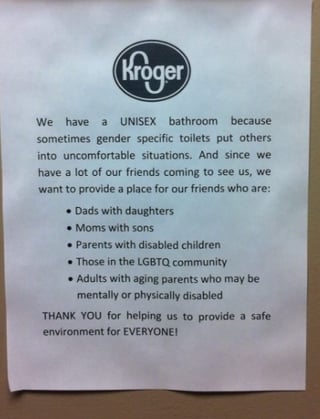 (2) Example of how to respond to negative comments
Honey Maid created a powerful 30 second spot that received over 8 million views on YouTube. Its key messaging centered on pursuing your truth and being yourself, with us. However it was their response to negative comments that was truly outstanding and creative. Honey Maid's messaging resonated with customers and by standing up for diversity and equality, the company's June/July sales increased 7% YoY.

(3) Example of how to depict everyday life
Another favorite is this Campell's Soup Commercial demonstrates how family isn't defined by who you love, but how you love. It depicts two fathers at an average meal time with their son.
(4) Example from the Financial Industry
I dare you to watch the Wells Fargo's LGBTQ Ad without getting teary eyed. They show us that everyone works hard for a reason and demonstrate how they can help prepare you financially when two becomes three.

(5) Example from a Healthcare Insurance Provider
Aetna's LGBTQ camppaign focuses on "Be proud. Be well." It's an excellent example of how you can use advertising to pleasantly surprise your audience and promote diversity.
As always, when creating your LGBTQ marketing campaigns, be sure to tap into focus group testing in combination with scoring your campaigns on Ad Respect. This will help gauge how your programs will be received.
Read more about LGBTQ marketing best practices on our blog:
Part 1: 5 Reasons Why you Must Have LGBTQ Marketing Strategies
Part 2: 4 Things Marketers Should Know about the LGBTQ Community
Part 3: 5 Must-Haves When Including the LGBTQ in Your Marketing Campaign


To see Anderson's full presentation on LGBTQ marketing opportunities, visit our slideshare here.
Wondering how to get a jump-start on marketing to and including this audience? Sign up here to be sent a questionnaire to receive a FREE LGBTQ marketing consultation.
Stay tuned next week as we continue our inclusion series, focusing on LGBTQ community.