Every Friday morning at 9:00 am, you will find our largest conference room a bustle as members from numerous departments gather for our weekly iBreakfast Break training session. Everyone stops for a moment for a workshop (led by our savvy interactive team) about relevant interactive topics.
It's about sharing knowledge, experience and some tasty bagels!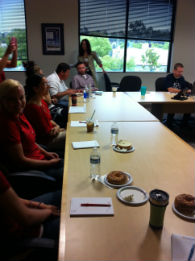 While bagels and cream cheese bring them in, the knowledge and discussion is what keeps people coming back
every week to learn more about mobile email optimization, landing page best practices, social media and other digital marketing techniques, tools and platforms. "iBreaks" are a great chance to learn from our own experts, reflect on past experience and brainstorm ways to use our cutting-edge knowledge in the future.