For 28 years, Anderson has been hard at work creating and producing the best direct mail(DM) in the business. We are an ever-evolving organization, committed to staying fresh and providing our clients with the best services possible. As a one-stop shop, our people do it all— strategy, creative, data, interactive, production—you name it! But what is the bigger picture? How exactly does a DM piece go from start to finish?
I followed an Age-In campaign for a health care leader to find out. This piece included a 14-inch letter with a double parallel fold with perforations on the business return device, a brochure, a BRE (business return envelope) and was housed in an outer envelope with a double window. The messaging promoted the leading health care company's Medicare Advantage program and how it can protect individual's over 65 in the state of Washington from high medical costs.
"It all starts with sales," said Russ Machus. "We are the hunters who find new business, the nurturers who maintain and grow current business, and the problem solvers for customer problems." This is the jumping off point for any DM piece. Russ was able to assure this client that we were the best in the business and would meet and exceed their expectations. To seal the deal, he was able to provide a presentation of concepts created by our agency team. Once the business was won, the client was assigned an agency team, who took over from there.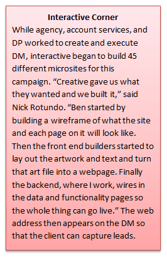 Bethany and team got right to work establishing scheduling and costs, campaign objectives and creative direction, all the while ensuring that the client was happy. After receiving client approval of concepts, the team produced several rounds of creative. According to Bethany, the best part about the agency is "We manage teams and the clients, but we are also responsible for being knowledgeable in our field and enduringly strategic. I love that this role requires me to use different parts of my brain every day, from analyzing data to creative concepts." Once all the art was approved, the piece was ready for account services and production.
As soon as agency finished creative and messaging, account services took over to execute the DM. "Account Services makes it happen," said Devi Kirn. "We execute the DM by approving laser, writing instructions for DP and print production, and making sure that versions and data are correct based on region and demographic considerations." When it comes to health care pieces, there are many more versioning and data considerations than in a typical DM campaign. This health care client serves 4 states with 5 different programs, so Devi had to make sure that each piece was getting into the hands of the right person in the right region. Once Devi and her team wrote instructions for the DM, there began a back and forth between her department and data processing.
"DP receives files from clients full of names and addresses that should receive the DM," said Katrina Rotundo. "We clean up the data, make sure they are Cass certified (verified with the USPS), and merge/purge to remove duplicates." For this specific Age-In piece, DP had to ensure that the font of the address block was at least 12pt so that its target audience could easily read it. After DP made sure the data was correct and ready to mail, the piece was kicked back to account services to be routed through our Proofreading/Quality Assurance department.
Proofreading saw this DM piece throughout various stages of both the creative and production processes. Kelsey Comes and the rest of the proofreading team proofed these particular pieces from concept to final art for the agency and performed comparatives and data checks on the personalized
proofs for account services. Kelsey remarked, "When it came to this health care piece, there were two things I made sure to consider very carefully: that 'health care' was spelled correctly for that client and that any legal edits were followed exactly." Health care can also be spelled as one word, though this client spells it as two, and health care law varies by state so it is vitally important that client legal department's instructions were followed precisely. As soon as the quality team signed off on the piece, it went into production on the floor.
"Production's role is to ensure that the DM piece is produced correctly and on time," reported Roger Wright. "Health care mailings are typically the most detailed and complicated projects in the production floor, due to all the different packages, versions, and cell versions. All involved in the project have to be briefed via a production preflight so that we are all on the same page. This ensures that the DM is done correctly and meets Anderson's standards for quality." This DM was printed flat in both digital (3 components) and offset (1 component) and was then sent off to David Vega and his team for bindery and insertion. "Once we receive the pieces from the various printing departments, my bindery team gets all the pieces folded up and glued if necessary, and then the insertion team puts the pieces in the inserter machines to ensure that one of every component of the direct mailing piece gets into the envelope." Mailings are then presorted by ZIP code and the mail desk is able to get them out and off to their various recipients.
And that is the life cycle of a direct mail piece here at Anderson!