In order to succeed with marketing, you must consistently work to evolve your processes and strategies to account for changes in your target market, taking into consideration new technologies and the potential changing demographics of your market. Much of that involved the creative design and overall user experience. New technologies are emerging all the time, and often these new technologies come from a great idea, but have many initial barriers to usage.
In the 2000's, the QR code became a widely used1 tactic and was incorporated into marketing collateral as a way of engaging mobile users and directing them to an online experience through the QR scanner on their phone rather than having them click a link. The problem with QR codes is that it adds an extra step to the process. Instead of simply clicking on a link and going to the page you would like, you now need to make sure that you have an app downloaded on your phone to scan the QR code. According to 2013 results by eMarketer.com2, 36% of Americans between 25 to 34 years old reported having scanned a QR code. Although not a low statistic, this does not show repeat usage, and that number often drops off. Marketers continue to test using QR codes as an engagement device while looking for other alternatives for engagement.
One such alternative is a technology called Clickable Paper3. Similar to the QR code, this technology calls for consumers to download their app so unfortunately we run into the same barrier. However, the difference is that Clickable Paper drives consumers to an entire experience on their smartphone rather than sending them to one link. Depending on the experience, brands can send consumers to a "page" in the app that can link to a web-site, YouTube link, social media account, e-commerce site, or other related areas.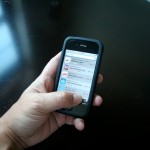 Creatively, this technology does away with the standard black and white QR code that designers often have to work into an otherwise attractive piece of collateral. Many brands have done well to creatively work the QR code into their design but it generally sticks out like a sore thumb. The Clickable Paper technology still requires that the collateral has a recognizable feature so that consumers know that it is scan able however the design is open to more creative approaches.
Overall, the general idea behind Clickable Paper seems new and exciting across the board. However, there are a few significant barriers to using this. First is general knowledge – both brands and consumers alike need to be educated about the existence of the app. Second is adoption – brands need to figure out how to incentivize consumers to want to download the app and take that next step for the experience. Otherwise, the cost to develop the experience will not be worth the results. Another consideration for brands is their target market. For an older market, it is potentially less likely that they will download and use such a technology to make it worthwhile, although baby boomers are steadily adopting advanced. Considering Pew Research Center's discovered 45% of those ages 50-64 and 18% of those 65+ own a smartphone. 4
Like most emerging technologies, time will tell if this is a passing fad or a viable, standing technology. However, providing information in an easily accessible and consumable format provides for a rich consumer experience, so it could be worth testing.
1 http://www.qrcode.com/en/history/
2 http://www.emarketer.com/Article/US-Ahead-of-Western-Europe-QR-Code-Usage/1009631
3 http://www.adrants.com/2014/01/clickable-paper-to-destroy-qr-code-save.php
4 http://www.pewinternet.org/fact-sheets/mobile-technology-fact-sheet/