Back in the day, when direct marketing was new and giants like Les Wunderman and "Rocket" Ray Jutkins roamed the earth, you engaged audiences with proven performers like stickers, written checklists, tear-off coupons, membership cards and so forth.
But today's audiences have become much more sophisticated in the nearly fifty years since the inception of modern direct marketing. Plus, the advent of mobile and digital marketing has truly raised the bar on what can and should be done to grab people's attention.
Gamification has become one very compelling way.
Calling it an app's an understatement
Basically, gamification calls for applying gaming principles—stimulating prompts, feedback, rewards and rankings—to engage and motivate people.
In its simplest form—say an app, it's essentially just an elaborate involvement device. For example, instead of a static infographic on your website you might turn the information into an interactive guessing game that confers points or digital badges for the right answers.
Ask for their name and email address before they can play, and you've got a goldmine for permission-based email marketing.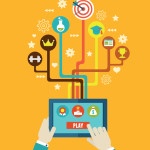 Play it up big
Writ large, gamification techniques can also inform much bigger, multi-campaign marketing programs with deep strategies and high levels of branding. Frequent flyer programs spring immediately to mind. Interestingly, these also happen to be among the forerunners of the trend.
Digital design allows you to "skin" these programs with splashy, highly interactive applications that will occupy even the most jaded consumer or employee.
Everyone's getting into the game
Gamification has become big business in the 10-plus years it has been around since being coined by British-born programmer and inventor Nick Pelling in 2002.
Badgeville (badgeville.com) and Bunchball (bunchball.com) are two industry leaders that offer a variety of products and services aimed at integrating recognition and achievement systems. Salesforce.com has integrated game-like features into all of their products for sales management and customer service. Khan Academy (khanacademy.com) and Codecademy (codecademy.com) have done the same for education.

Up the odds for success
Congratulations if you're thinking about gamifying your next campaign or program. Consider the following to make it a success:
Provide points for everything
Yes, purchases are great. But also reward people for simple things such as reading an article, watching a video, answering a question,or providing a piece of information.
Think strategy first
Simply giving points and badges for doing things is just the tip of the iceberg. A deep strategy and a great plan are what make a gamified program successful, not bells, whistles and mechanics.
Give badges, rewards and other feedback at once
People love instant gratification. Plus, conferring a digital badge taps into consumers' innate desire for status, along with our yen for collecting.
Create a leaderboard to show top performers
People are naturally competitive, will often redouble their efforts to keep up with the Joneses, and love being part of the winner's circle. It's human nature.
Don't forget your brand
A good gamified campaign is very "sticky," meaning that consumers will be exposed to your brand longer than the few seconds it takes to scan a simple ad.Make sure your brand shows well at all times.
Socialize it
Everything that makes social media so powerful—a sense of belonging, pride, acceptance, envy and curiosity—will make your gamified program more powerful, too and will promote your brand in the process.
Enlist help if you need it
Anderson Direct & Digital offers comprehensive digital marketing services that can be a huge help in putting your project on the fast track to success.
You can read about their digital capabilities here.
Get a piece of the action
Driven largely by the discriminating tastes of Millennials, advertising in the digital age is fast evolving into high entertainment that also happens to sell. And sell it does. Gamification is definitely consistent with this trend. In fact, Gartner predicts that by the end of 2015, more than 70% of Global 2000 organizations will have at least one gamified application.[1]
So, if you want a piece of the action—and a bigger slice of market share—game on all you smart marketers out there.
[1] Gartner Says By 2015, More Than 50 Percent of Organizations That Manage Innovation Processes Will Gamify Those Processes- http://www.gartner.com/newsroom/id/1629214