360 video marketing is here and it's pretty exciting! During this year's Fast Company's Creative Counter-Conference, I was lucky enough to get a seat at the Samsung Virtual Reality Workshop where we were treated to an exclusive experience of Samsung's Gear 360.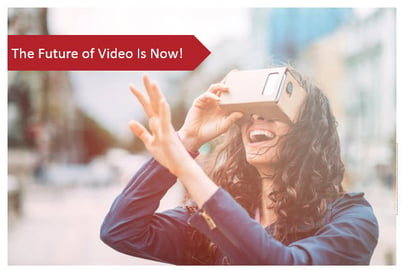 360 cameras record a complete 360-degree view of a moment and capture it via photo or video. You might be thinking, "I already know about this; isn't it just like a standard GoPro?" But it's not. The standard GoPro videos give the viewer one point of view, aka a face-forward view. These shots can be quite bumpy or wobbly if the moment was recorded by, say, a mountain biker.
However, with a 360 camera the viewer is able to truly stand in the shoes of the photographer/videographer, with the ability to turn the camera in any direction, truly experiencing the moment captured. In this sense, when shooting a scene, you have to be more cognizant of the
viewer. Shots are best captured if they're not jarring. You'll see shifts in approach, like in this GoPro 360 camera promo video. It captures a snowboarder's experience, and you'll notice the shot is much smoother than a usual GoPro shot. Even when the snowboarder is flipping upside down, the camera is actually staying still. But what's really neat is that the viewer can use the mouse (via computer) to turn the phone or literally move your head (via VR glasses) to view all angles of the moment captured, like seeing what's behind the camera person.
The Samsung's Gear 360 makes it really simple, by having essentially a one-stop shop, to capture the 360 experience. The camera is automatically synced with the phone. As soon as the photo or video is captured, simply watch on the phone or computer, or snap the phone into the VR glasses for total immersion. Pretty darn cool.
Here are some really amazing examples of 360 videos that I found inspiring.
Pride: This summer via #PrideforEveryone, Google documented global Pride parades using 360 cameras to "give those who cannot march in person to celebrate Pride in a new way—using virtual reality and Google Cardboard."
Ticket vending: Companies like Rukkus allow people purchasing tickets for an event at a certain venue to literally experience what their seat will be like—how far away it is from the stage and how close they'll be to the action.
Sports: Sports teams are now using VR to capture a play and then go back and learn from it. Imagine the quarterback literally being plopped back down in a play, pausing the moment right before he's sacked. He can turn in all directions to see what his teammates are doing and how the defense broke through.
Musicians: Here's a virtual reality video of a musician posted on VRScout as he practices his drums.
Exercise: Use VR to keep your workouts from getting boring. Check this guy out as he takes a boat ride via virtual reality.
So what does this mean for VR and marketing? Since VR and 360 cameras are quite new to the general public, everything being done is the first of its kind, leaving the door wide open for trail blazers!
You may also like these articles: