4 Things Marketers Should Know About the LGBTQ Communities
(1) How Large the LGBTQ U.S. Community Is
5.8% of Americans identify as gay, lesbian, bisexual or transgender. As younger adults are consistently more likely to identify as LGBTQ, these numbers are expected to increase as more individuals become comfortable revealing their orientation.

2.4 million LGBTQ adults over 50 in the U.S., which is expected to double by 2030.

5.6% of 18 to 44 year-olds identify as lesbian, gay, bisexual or transgendered.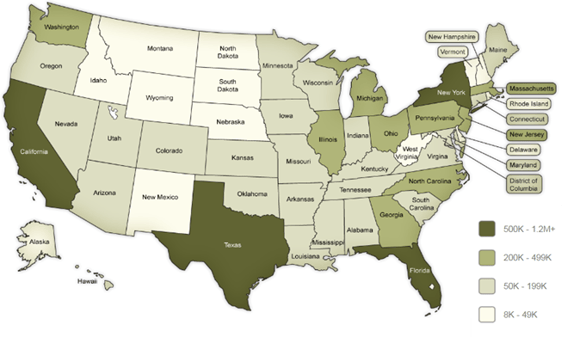 (2) LGBTQ U.S. Population
It's no surprise that the larger a state is, the denser the LGBTQ populations are. The map above from the Movement Advance Project demonstrates the LGBTQ population distribution in the United States.

According to NerdWallet, the top LGBTQ friendly cities are:
1. San Francisco, California
2. Portland, Oregon
3. Austin, Texas
4. Providence, Rhode Island
5. Baltimore, Maryland
6. Philadelphia, Pennsylvania
7. Seattle, Washington
8. Salt Lake City, Utah
9. Los Angeles, California
10. Orlando, Florida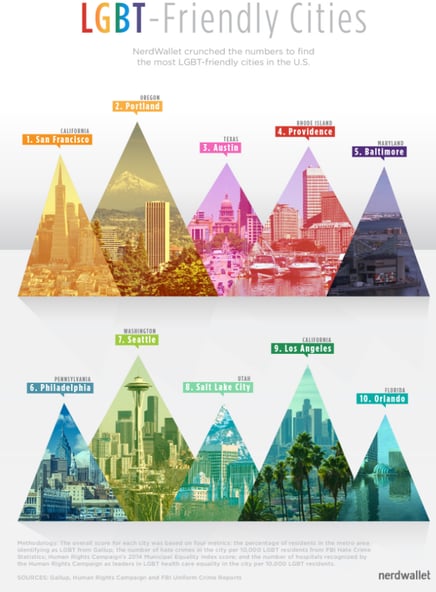 (3) What matters to the LGBTQ Community
Don't think that marriage equality is the only thing that's top-of-mind for the LGBTQ community. Do these universal needs sound familiar?
To be able to travel safely and free from prejudice.
To be able to show affection and celebrate in public, like everyone else.
To get affordable healthcare—for themselves and their loved ones.
To go beyond tolerance…to be accepted.
To feel at home. Anywhere.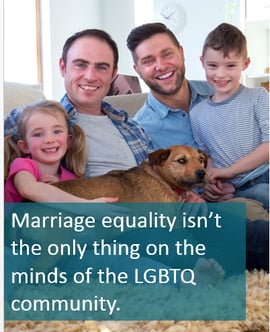 (4) LGBTQ Recommendations go a long way
The LGBTQ community is more tightly-knit than other segments. Word of mouth is especially powerful within this demographic, so if people are asking about a new product or service, it comes up powerfully in conversation.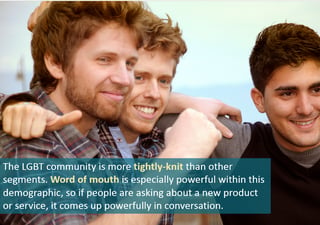 Read more about LGBTQ marketing best practices on our blog:
Part 1: 5 Reasons Why you Must Have LGBTQ Marketing Strategies
To see Anderson's full presentation on LGBTQ marketing opportunities, visit our slideshare here.
Wondering how to get a jump-start on marketing to and including this audience? Sign up here to be sent a questionnaire to receive a FREE LGBTQ marketing consultation.
Stay tuned next week as we continue our inclusion series, focusing on LGBTQ community.


References include:
• http://williamsinstitute.law.ucla.edu/research/lgbt-older-adults-highlighting-isolation-discrimination
• http://www.lgbtmap.org/equality-maps/lgbt_populations
• https://www.nerdwallet.com/blog/mortgages/top-lgbt-friendly-cities-2015/