Imagine the possibilities if you could connect with potential customers all over the world in a matter of minutes, and increase your brand awareness, website traffic, and sales at the fraction of the cost. With over 3 billion internet users, and 2 billion of which having active social media accounts, social media is quickly becoming a substantial part of every marketing strategy.
If you're wondering how to use social media to benefit your business or how to get more followers and likes to increase your social reach, here are five hacks to optimize your efforts:

(1) Plan and prioritize
Focus your efforts on the social networks where your target buyers are spending time. Create profiles on all the top social networks: Facebook, Twitter, Instagram, and Pinterest. Give your customers and potential customers the opportunity to build a relationship and connect with your brand on the social network of their choice.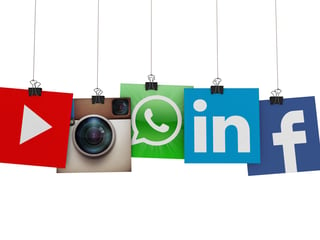 (2) Optimize your social profile—PROMOTE, PROMOTE, PROMOTE
Constantly ask yourself, "How can people find me, get in touch, or see what my brand has to offer?" By promoting your social presence and adding sharing buttons to all of your content, You will make it easy for people to link to your website, increasing your website traffic and search ranking.


(3) Share valuable content
Is your presence worth following? Delight your followers and post a variety of content that's fresh, interesting, and engaging. Visual content can be a powerful tool to create memorable and shareable content that will help captivate your audience and build brand loyalty.


(4) Interact and build relationships with followers and people in your industry
Social networks provide a great opportunity to make connections and interact with your fans at the push of a button.


(5) Partner with a dedicated social media team
Social media can be overwhelming, and no one said it was easy. Trying to build a successful social media campaign won't happen overnight. It may take some time and a dedicated team to optimize your strategy, track trend changes, drive and monitor engagement, and create content.


Next time you're walking through downtown, stop and take a look around. How many people are connected and using their social networks? So if you haven't started already, get started and create your social profiles!
Additional Reads: