This year's DMA is coming up quickly, and will be held right here in San Diego—not far from Anderson HQ in Poway—October 25-30, at the San Diego Convention Center.
Although the warmth of California's summer is fading fast, the west coast venue is sure to be a relief for people flying in from less sunny parts of the country, as well as a beacon for those seeking DM's best and brightest, people, technologies and ideas.
We'll be there—with ROI on wheels
As we have for the past 15 years, Anderson will have a strong presence at this year's exhibition hall (October 26-28), rocking a cool beach theme at Booth #1732. There we'll be inviting visitors to learn more about our new brand, value proposition and fresh service offerings while embracing a distinctively SoCal surf-sun-and-fun vibe.
We'll also be enticing people with freebies, plus a grand prize giveaway of a FREE beach cruiser for those who come and enter.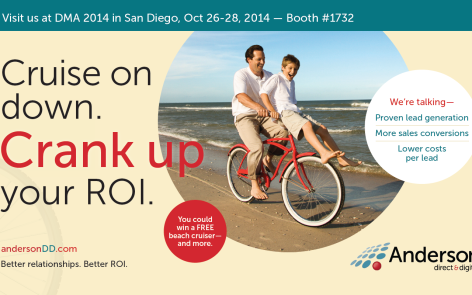 On tap: a host of DM's finest
Along with Anderson's offering, DMA attendees will be able to choose from a multitude of "best-of" and "how-to" sessions showcasing topics like marketing fundamentals, behavior and research, marketing technology, mobile, social and content marketing, plus much more.
There will also be special sessions on marketing intelligence, along with speakers including the likes of Magic Johnson, Adobe's John Mellor, Wesley Moore of Teradata, Chris Wong of IBM, and others.
Much ado about data
This year's DMA has been dubbed the Global Event for Data-Driven Marketers, which happens to play perfectly into Anderson's strong suit and overall business approach.
We say that, in today's connected world, every communication is a direct communication. If data is the lifeblood of that connectivity, then analytics is the central nervous system. This is why Anderson has redoubled our commitment to data-driven marketing, using advanced science and business intelligence to help our clients know who their customers are, what they want, how to reach them, and what motivates them to buy.
The result is "the big three" most every company wants: proven lead generation, more sales conversions, and lower costs per lead.
Better relationships and better ROI
Ultimately, though, Anderson believes that data and analytics drive better relationships. Indeed, we're hoping people will come to our booth for a rewarding agency relationship founded on those two elements. That, in turn, empowers us to help them forge better, more lucrative relationships with their clients and customers.
California sun, a free bike, free swag and a healthy dose of Anderson's winning DM philosophy. What more could a DMA visitor want?