To wrap up the Customer Intelligence series that we have been running throughout the summer, here's a recap of the Customer Intelligence series that our Manager of Customer Intelligence, Deb Morel, has written.
What's Customer Intelligence? Why's it important?
Customer Intelligence focuses on analyzing marketing data and acting as a bridge between that data and marketing to help identify actionable insights.
A Customer Insight is an interpretation of trends in human behaviors that can potentially increase effectiveness of a product, service, or marketing strategy.
The better you understand your target customer's wants, needs, and behaviors, the better you can market to them and compel them to buy.
Why Segmentation? What is its importance to Customer Intelligence?
Customer Segmentation is the use of customer intelligence to divide customers and prospects into discrete groups based on:
Demographics
Purchasing trends
Behavioral attributes
The key is to mine the data and find actionable insights. Segmenting your data properly leads to allocating your resources most effectively.
Only through segmentation are you able to deliver the right message, the right offer, at the right time in a meaningful and relevant way.
Customer Profiling: how do you find your most profitable customers?
Find more of your most valuable customers and expand your prospect database by acquiring more prospects that have the same predictive attributes as your best customers.
This four-step process includes:
Exploring your data
Appending data and creating profiles
Defining your best customer segments
Cloning your most valuable customers
Though data science, you can identify insights that will inform smarter marketing decisions and inspire different approaches to solving business problems.
What is Customer Churn? How do we identify churn potential?
Churn is the annual rate at which customers leave a brand.
We know it costs 5x more to acquire a new customer vs. to retain an existing customer. Proactively identifying changes in these 3 behavioral trends that indicate churn will enable you to implement strategies to increase retention.
1- Lifetime Value (LTV)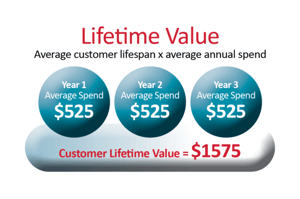 Monitor your segments against LTV benchmarks to help identify customers who are at risk for churn. Those who are not reaching the benchmarks as a good customer are likely to churn and require marketing tactics to mitigate the potential loss of the customer.
2- Monitoring Service Levels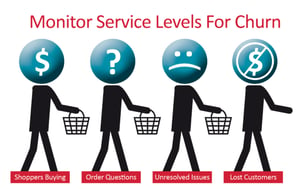 Evaluate your customer service level. If you're seeing an increase in customer service engagement from certain customers or segments…it could be an indicator of churn.
3- Individualizing Satisfaction Ratings

Net Promoter Scores (NPS) are a way to survey customers on how likely they are to recommend you. The less likely they are to recommend you, the more likely they are to churn.
How do I best create a business case using Customer Intelligence?
When you build a business case to influence or convince your audience to approve your proposal, you should remember to include compelling data points from Customer Intelligence.
Clearly convey the business problem and expected success metrics.
Articulate your hypothesis and strategy to achieve the desired objective.
Share the supporting customer or data insights that informed your hypothesis.
Define your proposed solution.
Detail the financial rewards expected when the solution is implemented.
Balance the risks associated with the rewards.
Make your recommendation on which solution to move forward with and why
Here's a "real-life" example: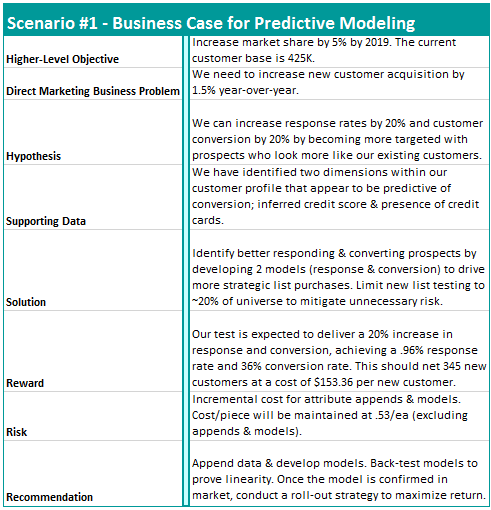 The key takeaway here is that, through customer intelligence, you can identify insights that will inform smarter marketing decisions and inspire different approaches to solving business problems.
Interested in learning more about how Customer Intelligence could help your program? Learn more about Anderson's CI capabilities and see case studies here.
For more marketing tips, tricks, and insights, you can subscribe to our blog in right column of this page and subscribe to our YouTube channel here.
To see the full Customer Intelligence video series, see the links below:
You can also download our predictive customer intelligence white paper and enter for your chance to win a customer profiling and response modeling (worth $10K below).
Thank you for watching! We hope this has helped with further understanding the power of CI! Please leave a comment below or reach out to us here, so we can help you with any further questions you may have.