Did you know that only 3% of participants in online conversation generate 90% of the impact online? It may be no surprise that marketers would want to team up with these influential people and tap into those conversations to build brand awareness. Here's what we like to call a marketing quick take at what influencer marketing is, and how to potentially incorporate it into your marketing strategy.
What is Influencer Marketing?
It's a type of marketing that focuses on key leaders to drive your brand's message to the larger market. Rather than marketing directly to a large group of consumers, you instead inspire/hire/pay influencers to get the word out for you.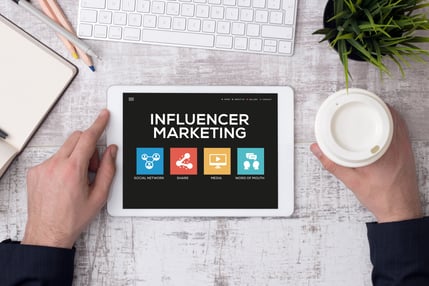 What classifies someone as an influencer?
An influencer can be anyone who has a high level of credibility and respect with an audience, so much that their opinions inspire others to take action.
An authentic social influencer could be a loyal customer, a passionate brand advocate, a dedicated fan, a blogger, or a vlogger.


Why is it on the rise?
With the adoption rate of social media increasing daily, more people feel empowered to share their personal experiences to give consumers an authentic viewpoint.
This sharing of content is dramatically changing the way people make purchasing decisions, because they no longer only rely on what the brand says. They look for the recommendations of others, and now they can access many opinions and recommendations from people they trust anytime, anywhere.


Why should you care?
Statistics show that 92% of consumers trust recommendations from other people, even if they don't know them personally, over promotional content that comes directly from brands.
Brands that leverage social influencers to spread their message are seeing up to a 10X increase in conversion rates.
Across all categories, brands are leveraging Influencer Marketing to get their message out. As social media and technology continue to evolve, Influencer Marketing has the flexibility to evolve with it.
Additional Reads: