Online marketing is evolving at a pace that most businesses may have a hard time keeping up with. Users are getting flooded with more and more content from a variety of media, and this can be overwhelming.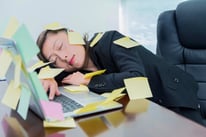 2015 was a huge year for changes in online trends. Social Media, particularly Facebook, continued to grow as another source for businesses to advertise and gain followers. Content marketing such as videos, case studies and blogs helped reassure brand awareness all over the web. Mobile traffic outweighed desktop in 10 different countries, meaning that people are searching and surfing while on the go. And one of the biggest thing to happen in 2015 was Google's "Mobilegeddon" algorithm update, which essentially phased out all sites that are not optimized for mobile.
So what do all of these trends mean for you and your business? It's time to take a step back and look at your content with a fresh, modern perspective. Gone are the days of lengthy pages of endless paragraphs of content. Instead, users are looking for the quickest and most accurate way to find the information they seek.
Here are 5 tips to shorter, more effective online content:
Keep it original - It's no secret that great content will keep users on a website, but think of the other benefits. Google seems to launch more algorithms than even the savviest of experts can keep up with, but one thing is for certain: Google loves original content. Avoid duplication on your website and even across all of your online content. Be sure to have topic-heavy content that utilizes some of your SEO keywords. Google will thank you for it by increasing your ranking. An increased ranking in Google means more visibility, and more visibility means more traffic.
Headlines are key – About 80% of users will read your headline, but only about 20% will read the rest of your content. Use the space to present your brand or key, lead message. Engage your users with some brief, impactful words, and they will read on. Don't be afraid to add a call to action right near your website's navigation. Then use a sticky header to keep that CTA always in the frame.
Content doesn't just mean copy – Modernize your content by using infographics, videos and imagery to tell your story. Users are bored of reading and would rather be visually stimulated by content. Finally, Google is giving credit to this type of content delivery when the correct optimizations are put in place. Utilize cards, parallax scrolling and other effects to tell the story of your brand. 2016 will be a big year for search results revolving around videos and images, so get creative!
Enhance your content not only on, but also off your website – Use shorter, more impactful content across all of your digital marketing channels. Write an engaging meta description to attract organic searchers, shorten those social media posts and use keywords and links back to your website and launch a remarketing campaign that turns lookers into leads.
Stay one step ahead – Stay in the know on upcoming trends in online marketing in order to have a leg up on your competitors. For instance, keep your eyes peeled in the coming months for 'responsive content marketing'. Soon, not only will your website be responsive, but you'll have the capability to have the actual content on the page adapt in length and style depending on the device it's being displayed on.
References:
http://searchenginewatch.com/2016/02/16/how-to-optimize-images-for-seo/
https://blog.kissmetrics.com/ingredients-of-great-content/
http://www.forbes.com/sites/jaysondemers/2015/09/29/the-top-7-online-marketing-trends-that-will-dominate-2016/#4849ffe94c04
https://searchenginewatch.com/sew/opinion/2441699/what-you-need-to-know-about-responsive-content-marketing