In many ways, purchasing Medicare Advantage insurance is no different than buying
other products in today's internet-fueled marketplace. Competition abounds. Comparison is easy. Savvy seniors have access to powerful tools and avidly shop for the best deal. Leverage our original Medicare research to make your website best in class and a lead machine.
Anderson's exclusive research initiative, How Medicare Marketers Can More Effectively Reach, Engage, and Retain Medicare Consumers, revealed that 47% of Age-In shoppers considered 3-5 companies online before deciding. Takeaway? If you hope to attract this audience, you'd better have a best-in-class web presence.
Here are just a few of the many eye-opening insights from the study:
(1) Keyword: SEO
Insight: Our research showed that one of the top three steps every New-to-Medicare (NTM) shopper (26.1% of respondents) takes involves using a search engine to do a general online search.
Action Steps: Optimize your website for maximum SEO results. Be sure to consider all the SEO levers: content, utilizing keywords throughout your website, external links, mobile responsiveness, and design that follows best practices.
(2) Be Brilliant on the Basics
Insight: When Medicare prospects land on your site, they're looking for the clear, understandable information they need to make an informed decision. Of almost 800 respondents, the top three elements you must have on your website are: plan costs and comparisons (83%), which doctors accept Medicare (65%), and what's covered by Medicare (55.6%).
Action Steps: See to it that your site navigation makes it easy for visitors to find this content. Otherwise, one click and they're gone—off being romanced by your competition.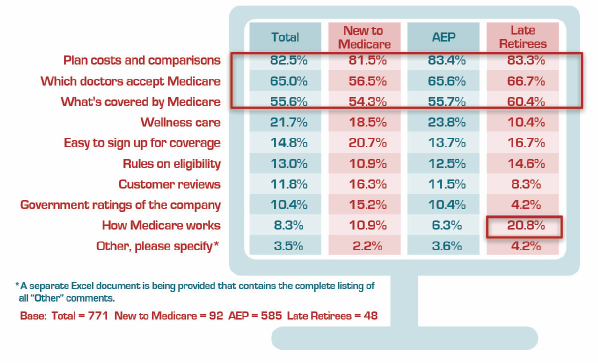 (3) Once in, few ever churn out
Insight: Although it's surprisingly simple to switch plans, those enrolled in Medicare for at least a year who have switched providers seldom do again. A mere 17% of our respondents said they would change companies once more.
Action Steps: You may only get one shot to enroll NTM prospects. Tailor your site to appeal to first-time enrollees, and test all the various elements until you get the right mix.
Drop us a line if you'd like to see the full Medicare study!


Additional Medicare marketing reads: