Since we were kids, we've been asking the question "Why?" Why can't I do this? Why do I have to do that? And sometimes the reason we were given was simply "Because I said so."
And as we grew older (and somewhat smarter), we began to realize that if we wanted to do something or go somewhere, we needed to plead our case. Getting the "Yes" depended upon whether we had done our homework and had the right answers to the questions our parents might ask.
What we didn't realize at that early age is that we were starting to learn how to develop business cases to convince our audience—in this case our parents—that if they say "yes" to our proposal, there would be a positive outcome and that the risk in saying "yes" is low.
In business, the financial stakes are much higher. A business case must be supported by compelling data, and that's where Customer Intelligence comes in: thoughtful analysis of your data that provides you with strong data points that help you persuade your stakeholders to say yes to your proposal. It's always important to align your business case with your company's higher-level or global objectives so that all teams are striving toward the same sets of goals.
So if you're planning on building a business case in the near future, remember to walk in prepared, utilizing Customer Intelligence data, and not just dressed snazzy like these guys.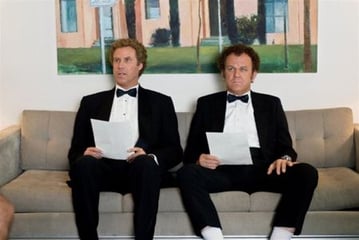 When you build your business case, you should do the following:
Clearly convey the business problem and expected success metrics.
Articulate your hypothesis and strategy to achieve the desired objective.
Share the supporting customer or data insights that informed your hypothesis.
Define your proposed solution.
Detail the financial rewards expected when the solution is implemented.
Balance the risks associated with the rewards.
Make your recommendation on which solution to move forward with and why.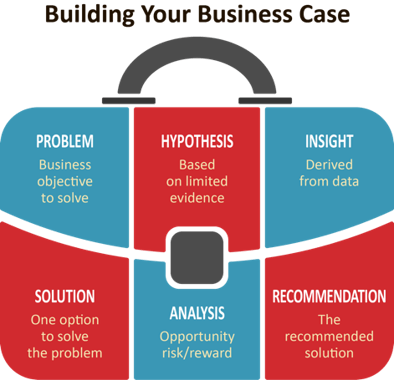 Your executive summary will usually be developed after you've completed your business case, but it is always presented first. It is a synopsis of the key findings detailed in your business case.
Using the methodology above, let's look at a couple of summarized "real-life" business cases:
Business Case for Predictive Modeling
Business Case for Shifting the Control Package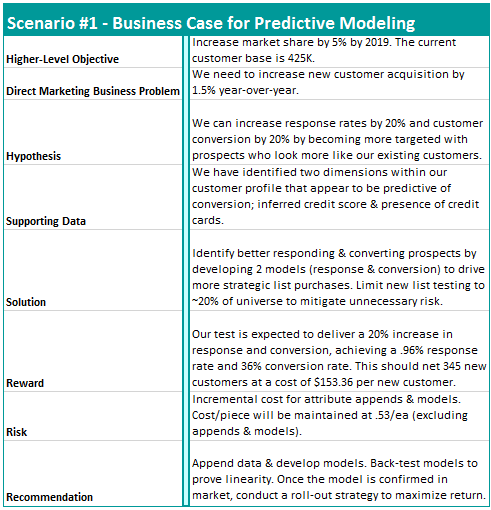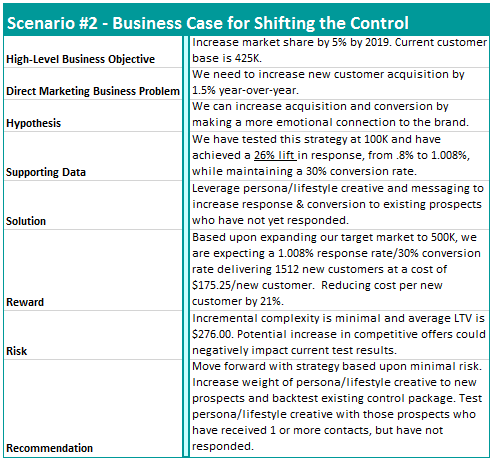 Making a persuasive business case to change strategies, gain incremental marketing budget or expand your service area can be relatively easy if you have the right data. But just as important is your ability to inspire confidence when presenting your business case. It's always great to hear "Yes, let's move forward." But if you don't receive consensus or you need to answer some unanswered questions, don't despair. Questions mean your audience was listening, and constructive feedback will make your next attempt even stronger.
Do you have a business initiative that you need help with? Give us a call at 888.694.5094. Together we can gather the data you need to support your business case and ensure that you continue to meet your business objectives and increase your Return on Investment (ROI).
For more marketing tips, tricks, and insights, you can subscribe to our blog in right column of this page and subscribe to our YouTube channel here.
To see the full Customer Intelligence video series, see the links below:
You can also download our predictive customer intelligence white paper and enter for your chance to win a customer profiling and response modeling (worth $10K below).
Thank you for watching! We hope this has helped with further understanding the power of CI! Please leave a comment below or reach out to us here, so we can help you with any further questions you may have.